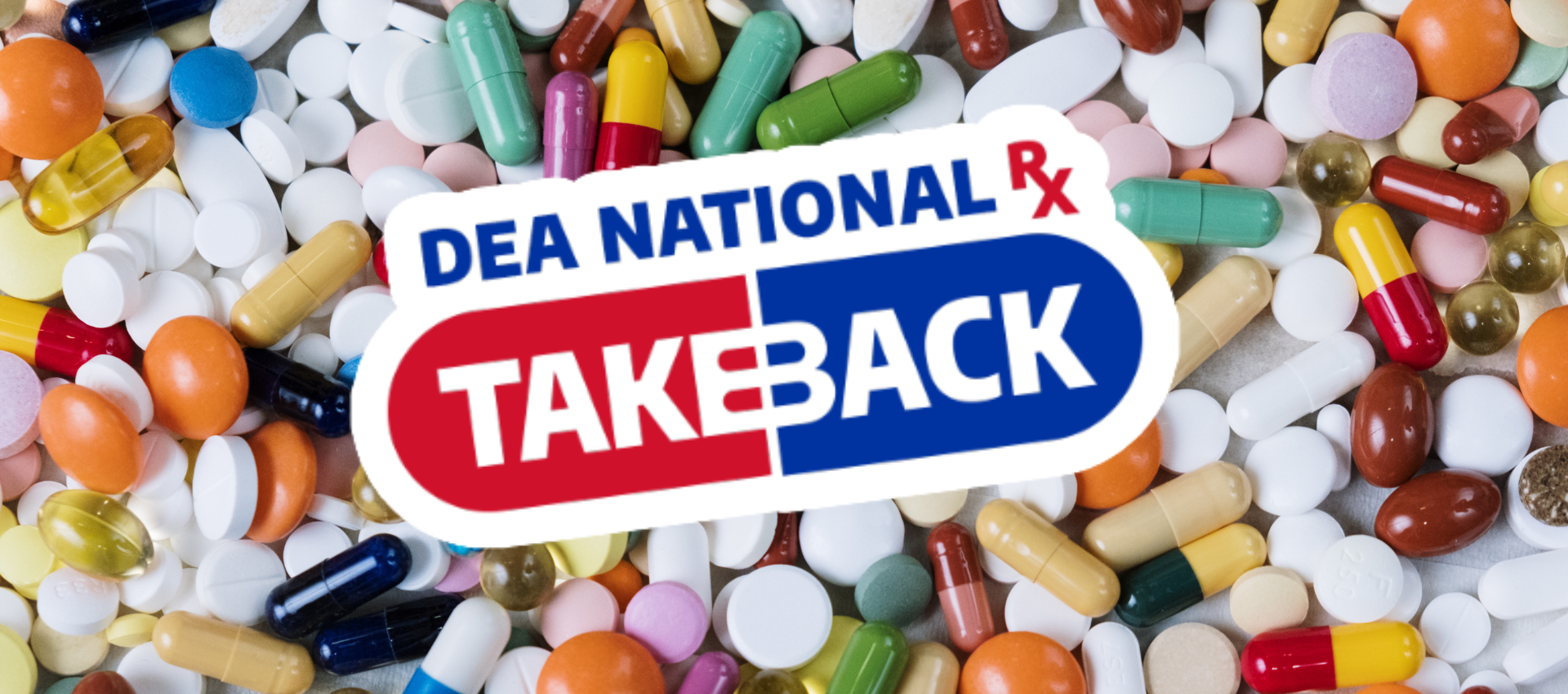 THE NEXT DEA TAKEBACK DAY IS OCT 28TH 2023
Overview
What Is National Prescription Drug Take Back Day?
Every year, the DEA runs a 1 day National Prescription Drug Take Back Day Initiative.
This year, the 24th Annual DEA National Prescription Drug Take Back Day was on Saturday, April 22nd and it took place in over 4000 locations across the country.
Three of those locations are here in Fayette County: Fayetteville Police Department, Peachtree City Police Department and the Fayette County Sheriff Office.
Take back sites were be open for collection from 10 am through 2 pm.
Take Back Day aims to provide a convenient and responsible means of disposing of unused and expired prescription drugs.
Collection sites safely collect tablets, capsules, patches and other solid forms of prescription drugs. Collection sites do not accept syringes, sharps, and illicit drugs. Liquid products, such as cough syrup, should remain sealed in their original container. The cap must be tightly sealed to prevent leakage.
Why is DEA Takeback Day Important?
According to Fayette Safe Rx team member Barry Walker, Jr, "DEA Take Back Day is important to me because as a citizen of Fayette County and a law enforcement officer, I see firsthand how prescription drug addiction and abuse decimate families and communities daily.  We tend to think of only illicit drugs having a negative impact on our community, but prescription drugs are readily available and often abused by minors as well as adults."
Another team member, Michael Mumper of Drug Free Fayette, adds, "53% of prescription drugs that are misused are obtained in one's own home, or the home of a friend or family member.  We should treat prescription drugs like any other potentially harmful household item. Ideally we can lock them up with a medicine safe lock box, and securely dispose of them at DEA Take-Back Day or with a drug deactivation pouch like Deterra."
DEA's commitment to Americans' safety and health
The drug overdose epidemic in the United States is a clear and present public health, public safety, and national security threat. DEA's National Prescription Drug Take Back Day reflects DEA's commitment to Americans' safety and health, encouraging the public to remove unneeded medications from their homes as a measure of preventing medication misuse and opioid addiction from ever starting.
DEA is committed to making our communities safer and healthier, and we can do this by reducing overdoses and overdose deaths. While the community does its part to turn in unneeded medications and remove them from potential harm, we are doing our part to further reduce drug-related violence.
Anyone who drops off medications can ask about free Deterra Drug Deactivation Pouches, and free medicine safe lock boxes.  These are two additional ways to keep our homes safe from misuse of prescription drugs.
If you are unable to participate the DEA Take Back Day or need to drop off
medications on any other days of the year,  these drop off locations
offer year round prescription drug drop off:
Fayetteville Police Department
760 Jimmie Mayfield Blvd, Fayetteville, GA 30215
Phone: (770) 461-4441
https://fayetteville-ga.gov/185/Police
Peachtree City Police Department
350 GA-74, Peachtree City, GA 30269
Phone: (770) 487-8866
https://www.peachtree-city.org/117/Police
Fayette County Sheriff Office
145 Johnson Ave, Fayetteville, GA 30214
Phone: (770) 716-4720
https://www.fayettesheriff.org/
Fayette Safe Rx Alliance is comprised of several local, regional and statewide organizations:
City of Fayetteville Police Department
Fayette FACTOR and Drug Free Fayette
In Ryan's Name, Inc.
Piedmont Fayette Hospital
Georgia Department of Public Health, District 4
Fayette County Sheriff's Office
Peachtree City Police Department
Georgia Prescription Drug Abuse Prevention Initiative
Griffin Judicial Circuit District Attorney's Office
US Congressman David Scott